5 fun drinks Washington Capitals fans can make.
The Washington Capitals season is over and now we're waiting for what will be an exciting 2020-21 season with Peter Laviolette at the helm.  While we wait some fans are reliving old hockey games while others are following the current Stanley Cup playoffs.
Maybe you're reliving the 2018 Cup run? Maybe you're looking deeper into the past at some retro games? Whatever the case, we've got five perfect drinks you can make.
Recipies via onthejobmom.com
#5 Irish Car Bomb
Ingredients: 1/2 oz. Baileys, 1/2 oz. Jameson Irish Whiskey, Guinness Beer
Directions: Mix Baileys and Jameson in a shot glass, and then drop the shot glass in a pint of Guinness Beer. Drink enough so that you can forget that the Caps got eliminated in the first round, and then breathe.
#4 The Capri Sunrise
Ingredients: Fruit punch Capri Sun, one bottle of tequila, one lme wedge, rock salt
Directions: Adult Capri Suns are always fun to drink. First, you have to cut open the pouch along the top. In the empty space, pour in the tequila. Drop in a pinch of the salt and garnish with the lime.
#3 The Hat Trick
Ingredients: 2 orange bitters, 1.5 oz. Sherry Dry, 1.5 oz. white wine, 1 oz. Aperol
Directions: Add the Aperol, sherry and two dashes of the bitters in a cocktail shaker with ice. Shake well for 10-15 seconds. Strain into champagne flute and top up with your white wine of choice. Garnish with a dash of the bitter and a lemon twist.
#2 The Penalty Shot
Ingredients: 0.25 oz. shot of Blue Curacao, 1 gram of cinnamon, 0.25 oz. shot of gin, 0.25 oz. shot of tequila, 0.25 oz. shot of Vodka (citrus flavor works best)
Directions: Shake all the ingredients except the Curaco Pour into a frosted shot glass, and top off with Curacao, and then get ready to take your medicine.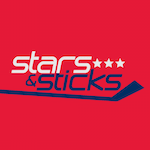 Want your voice heard? Join the Stars And Sticks team!
#1 Mountain Dew Me
Ingredients: 2 oz. Vodka, 2 oz. Peach Schnapps, orange juice, Mountain Dew, a splash or two of lime
Directions: Fill a 12 oz. glass with ice. Pour in vodka and peach schnapps then fill the rest of the glass with equal parts of orange juice and Mountain Dew. Top it off with a splash of lime juice. It won't have a boozy taste but it promises to hit you quick.
Those are our five fun drinks to make while watching old hockey games or the current Stanley Cup playoffs that are still going on. Enjoy and drink responsibly, Caps fans!


Source: starsandsticks.com