Much of the civil rights movement was fueled and powered by food.
Yes, just as the Sunday dinners of yore strengthened the bonds of the family, food played a bigger-than-thought part in sustaining the movers, the shakers, the marchers and the protesters who fought for the rights of black Americans during the mid-20th century. And the heroes of those movements weren't just the leaders, the names in the history books. They were the owners of restaurants at which strategies were discussed; the women who had bake sales, then used the proceeds to fund movements; and the workers who prepared the nearly 100,000 box lunches for the 1963 March on Washington.
Food's role in the liberation of a people is chronicled, and recipes for foods of the era, in Southern Food and Civil Rights: Feeding the Revolution by Frederick Douglass Opie (Arcadia, $21.99).
In the book, Opie, a professor of history and foodways at Babson College in Wellesley, Mass., tells how a black newspaper helped fuel a boycott against grocery stores that refused to hire black clerks and managers ("Don't Spend Money Where You Can't Work"). It chronicles the connection among food, jazz and protests in Jim Crow-era Washington; the "Club from Nowhere," the Montgomery, Ala.-based baking club that sold goods to whites, then secretly used the proceeds to support the Montgomery bus boycotts; the unionization of low-paid hospital workers in the 1950s and '60s and the food served at home organizational meetings; the civil-rights movers and shakers who met and developed strategies at the still-open Paschal's restaurant in Atlanta and Dooky Chase's restaurant in the Treme neighborhood in New Orleans; the protests and sit-ins that took place in those cities; the sandwich brigade that operated during the 1963 march; and the extensive mass food production efforts of the Nation of Islam. Opie even takes a look at the 2011 Occupy Wall Street movement.
Recipes run the gamut from apple pie and spareribs to pound cake and pralines. Included are recipies from the Afro-American Cooking School, supported by the Baltimore-based Afro-American newspaper; Caribbean dish recipes; some Georgia and New Orleans-based recipes; several recipes each for sweet potato pie, fried chicken and gumbo; a sweet potato bread recipe from George Washington Carver; and even a recipe for sweet potato cake.
Opie's earlier food-focused books include his first — Hog and Hominy: Soul Food From Africa to America (2008) and his immediate past effort, Zora Neale Hurston on Florida Food: Recipes, Remedies and Simple Pleasures (2015). These flavorful books grew out of his long-running food-related blog series, Feed the Revolution. He also teaches food-related courses as a result of his food research. "I generally like to teach the courses that I write about in one way, shape or fashion," he says, adding that he likes to try his material out in class.
[EMAIL UPDATES: Get free breaking news alerts, daily newsletters with top headlines delivered to your inbox]
This book began about four years ago as blog posts. It was when Opie wrote Hog and Hominy that "I just began to see this whole idea that food sustains movements," he says. "I also lived it. My mother was a NAACP volunteer; she was involved in organizing people also during the whole Free Nelson Mandela movement … The best part about going with her was eating some great food as they talked and strategized."
As Opie did his research, he says, he was surprised to find "that food can cause a social movement or a strike, and food can sustain a social movement or a strike. … if you mess with people's food, you're going to cause a problem. And if you want to undermine a social movement you somehow eliminate people's access to food. … If you want that movement to be victorious, you make sure that you keep the lines of operation open so that people get food."
Take a labor strike, for instance. "You can't have a strike unless you can sustain those workers and their families. As long as you sustain the workers and their families, they'll stay off the job. But if you threaten access to people who depend on them, and their food, then you're going to undermine the strike.
"Food and water are just so essential to so much of our lives that we don't think about."
He cites the stories in the Old and New Testaments of the Bible that revolve around food — including Jesus feeding the multitudes, thereby gaining new converts to Christianity; Mohandas Gandhi's 1930 Salt March to break British control over salt availability in India; the French Revolution, kicked off by a bread riot; and the Egyptian Revolution in 2011, which began when former president Hosni Mubarak's regime cut food subsidies — "the movement sustained itself into Tahrir Square [in Cairo] because people were bringing in food."
Which brings in why Opie included the Occupy Wall Street movement at the end of Southern Food and Civil Rights. The protesters, he says, "developed a concept from Tahrir Square, which is, they went to a local pizza shop in New York, and they set up a place where if
you wanted to contribute to Occupy Wall Street, you could just call the pizza shop and you could order a pizza and pay for it with your debit or credit card. And then the pizza shop would bring it to Occupy Wall Street."
Southern Food and Civil Rights was published in January. What has intrigued readers the most about it so far? "The role that everyday people have played in some of the most significant movements," Opie answers.
Take, for example, the Montgomery bus boycott in 1955-56. "In order for the Montgomery Improvement Association to keep people off the bus, they had to [provide] cars and car pools so people could get to work inexpensively. Well the insurance, the gas, all those things necessary to keep that car pool going — much of it came from women … who baked goods and sold the goods [and] didn't tell people why they were selling the goods.
"It's not always the leaders, the Dr. Kings, the strong and the powerful who are reasons why movements are successful. It's the contributions of everybody. … No matter who you are, there's something that you can do."
Opie tried the majority of the recipes, he says, and noted while doing so that there was a lot of "product placement" in them. He cites a cake recipe that calls for Pet brand evaporated milk, of which he had not heard and had to look up.
Opie won't name a favorite recipe but he's a connoisseur of sweet potato pies. "And then I also have a proclivity toward fried chicken," he says. "Fried chicken's a lot like rice in the Caribbean. … Everybody does [a] rice and beans dish and they all say they do the best one."
That being said, Opie has discovered that there's a lot of sharing that goes on between cooks. Many dishes he thought were ethnic-based, weren't so much. "It's a regional thing," he says. "There are regional differences and there are economic differences."
We tried out a handful of recipes included in the book — recipes modified from their original appearances in various black and mainstream newspapers. The easiest was this fried-chicken recipe, which appeared in The Baltimore Sun on Jan. 29, 1960.
Basic Fried Chicken
1 plump, young chicken
Salt and ground black pepper
Flour, for dusting
Fat or oil, for frying
Cut chicken into serving pieces (or purchase a cut-up chicken). Season with salt and pepper and roll in the flour. Heat fat (about 11/2 inches deep) in a heavy frying pan. Put the thickest pieces of chicken in fat first. Do not crowd — leave enough space for the fat to come up around each piece. Cook slowly, turning often. Do not cover pan. The thickest pieces will take from 20 to 35 minutes to cook. After the pieces have been browned, cooking may be finished in a moderate oven (350 degrees), if more convenient.
The next-to-easiest recipe was the Afro Cooking School Cheesecake, which appeared in The Afro-American on Nov. 19, 1932. The cottage cheese is to be put through a "potato ricer," but we combined it and heavy whipping cream in a blender and let fly. We also used the blender to grate the lemon peel and get the bread crumbs to a fine consistency.
Afro Cooking School Cheesecake
1/4 cup butter
3/4 cup sugar
5 egg yolks
2 teaspoons lemon juice
1 teaspoon grated lemon rind
1 pound cottage cheese
3/4 cup flour
1/2 cup cream
3 egg whites
Bread crumbs, amount not given
Cream butter and add sugar. When thoroughly mixed, add egg yolks, beaten separately. Add lemon juice and grated rind. Press one pound of [cottage] cheese through a potato ricer. Mix with flour and cream. Combine the two mixtures. Cut and fold in 3 egg whites, beaten stiff. Carefully brush a springform baking dish with oil. Sprinkle inside with bread crumbs. [Pour batter into pan, smoothing top.] Bake at 350 degrees until firm to the touch. This will rise, settle and shrink.
The Sweet Potato Ice Cream is sure to gain fans among those who, like us, had never heard of it before. This recipe appeared in the Atlanta Daily World on June 30, 1934. Note: It does revert to a custard texture when it begins to soften.
Sweet Potato Ice Cream
1/2 cup sugar
1 cup boiled, mashed and strained potatoes
1 egg white
1 cup cream, beaten well
Add sugar to mashed boiled sweet potatoes. Beat egg white until stiff and add to the sweet potato mixture. Put in ordinary freezer. When it begins to freeze, add well-beaten cream. This may be flavored as desired and varied by using some brown sugar.
George Washington Carver's Sweet Potato Bread — which appeared in The Afro-American on Dec. 9, 1939 — is not only delicious, it's especially good when treated the way one treats sweet potatoes: slathered with butter and topped with brown sugar and cinnamon.
George Washington Carver's Sweet Potato Bread
1 teaspoon salt
1 cup finely mashed sweet potatoes
1/2 teaspoon active dry yeast (original recipe called for cake yeast)
1 tablespoon warm water
3 3/4 cups flour, or sufficient to make soft dough
Add the salt to the potatoes and the yeast; put in the water and flour, enough to make a smooth sponge (about a cupful). Cover and set in a warm place to rise. When light, add the remainder of the flour or whatever is needed to make a smooth, elastic dough. Cover and let rise until light. Shape into loaves or rolls; let rise and bake. Many variations of the above bread can be made by adding sugar, butter, nuts and spices.
Our Bean Pie, a Nation of Islam staple made from this recipe in The Chicago Daily Defender on July 23, 1968, had problems … texturewise, at least. The filling was thin and never quite solidified enough for the cut slices to hold their shape, even though we baked it well past the required time. (Note: Several online bean-pie recipes call for evaporated milk or half-and-half. For the pie in the photo we used half-and-half and baked the pie at 350 degrees for 75 minutes, covering the crust with foil to prevent over-browning.)
Bean Pie
1 (28-ounce) can cooked navy beans
2 cups milk
3 tablespoons butter, melted
1/2 cup dark brown sugar
1/2 cup white sugar
3 eggs, well beaten
1 teaspoon cinnamon
1/4 teaspoon ginger
1/4 teaspoon nutmeg
1/4 teaspoon black pepper (believe it or not)
2 teaspoons vanilla
2 unbaked 9-inch pastry shells
Pour beans into blender and combine with milk, melted butter, dark brown and white sugar, well beaten eggs, cinnamon, ginger, nutmeg, black pepper and vanilla. Pour into two unbaked pie pastry shells and bake in a moderately hot oven (375 degrees) for about 30 minutes, or until a silver knife inserted in the center comes out clean. Pies will puff up in the oven but flatten when removed. Like sweet potato pies and pumpkin pies, which they resemble, these pies are best when served slightly warm. May be topped with whipped or ice cream. They freeze beautifully. Cut into serving pieces before freezing so that you can remove a wedge — or two, or three — as wanted.
Makes 2 pies.
Food on 02/15/2017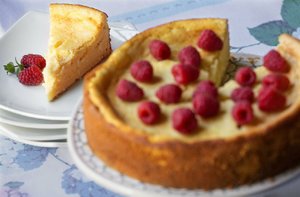 Photo by Benjamin Krain
Made with cottage cheese rather than cream cheese, Afro Cooking School Cheesecake was one of the recipes of the Afro-American Cooking School, supported by The Afro-American newspaper and operating in the 1930s and '40s. Shown here topped with fresh raspberries.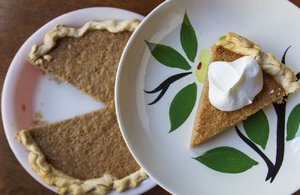 Photo by Benjamin Krain
Bean Pie is a longtime staple of the Nation of Islam. The Nation, description of its food-production and business practices during the mid-20th century civil-rights era and a bean-pie recipe are featured in Southern Food and Civil Rights: Feeding the Revolution by Frederick Douglass Opie.
Print Headline: Recipes for revolution: Professor's book tells how food nourished the civil-rights movement, in more ways than one
Source: www.nwaonline.com