By
Hooma A Billimoria
This Navroz, treat yourself to some Parsi treats with these closely guarded family recipies


Food is at the heart of the rich cultural heritage of Parsis; it's a significant part of all things happy, festive and fun. Our cuisine has been inspired by many influences over the years, but handed down from generation to generation, our recipes have a distinct culinary identity. These recipes were passed down to my father Shahrookh Rustam Talati from his mother. My mother Niloufer then learnt them from him and handed them down to me. On this auspicious day, I'm happy to share this family legacy with you.
TRADITIONAL PARSI SEV



In many Asian cultures, noodles or vermicelli is associated with longevity and prosperity. Parsi Sev, being sweet, has always been associated with good luck. An auspicious Parsi breakfast on any happy occasion will include sev and sweet dahi. Traditionally, sev should not be broken into tiny pieces but cooked as is to maintain its long strands, which signify longevity.
INGREDIENTS

• Sev (wheat vermicelli, extra fine), unroasted ……….. 250 gm

• Pure desi ghee ………….. 150 gm

• Sugar ……………………….. 200 gm

• Rosewater …………………… 1 cup

• Water ………………………… 500 ml

• Almonds, cashew, raisin ……… 2 tbsp each

• Charoli ……………………. 1/2 tbsp

• Green cardamom and nutmeg powder………… 1/2 tsp
METHOD

1
Heat ghee and fry all dry fruits except charoli as it burns fast.

2
Sauté and roast sev till brown on low flame. Try to keep the vermicelli intact without breaking.

3
Add sugar and water and let it cook on very slow flame.

4
Lastly, add rosewater when 3/4 done and spices.

5
Garnish with dry fruits.
——————————————————————————————————————————-
JARDALOO SALLI BOTI
The Parsi-Iranian cuisine that we know of today has been shaped by influences from Persia, Turkey, Azerbaijan and finally India. Dry fruits, berries and rose water are used extensively in and around the Persian region. Locally found fresh herbs, and spices like saffron, have also been used to lend their flavour to stews and non-vegetarian dishes. Perhaps the Parsi preference for 'khattu–mithoo' or sweet and sour — the balancing of flavours — has its roots there.
INGREDIENTS

• Mutton Boneless ……… 1 kg

• Onion ……………………. 500 gm

• Tomato ………………… 250 gm

• Jerdaloo (dried plum)………………………. 150 gm

• Ginger garlic paste for gravy…………………. 2 tbsp

• Oil or pure ghee ……. 100 ml

• Haldi …………………….. 1/4 tsp

• Salt to taste

• Chilli powder …………… 2 tsp

• Sambhar Parsi Style 2 tsp

• Dhania jeera powder………………………………… 2 tsp

• Garam masala powder………………………………… 1 tsp

• Sugar ……………………. 2 tbsp

• Sugarcane vinegar ….3 tbsp

• Saffron (optional) … 1/4 gm
Whole spices:

• Bay leaf …………….. 2-3 nos.

• Cinnamon stick …….. 1 inch

• Star anise ………………… 2 no

• Cardamom (elaichi) Green …………. 4 nos

• Cloves ………………………5 nos
Spices for marination of mutton:

• Ginger garlic paste for marination …….. 2 tsp

• Chilli powder …….. 1 1/2 tsp

• Haldi …………………….. 1/2 tsp

• Salt ………………………….. 2 tsp

• Dhania jeera powder… 1 tsp
METHOD

1
Heat water 1 cup approximately and add jerdaloo. Set aside.

2
Cut mutton into small 1/2-inch cubes and marinate with spices mentioned above for 1 hour.

3
Heat oil, add whole spices, sauté finely chopped onion till golden brown.

4
Add ginger garlic paste, all masala except garam masala powder and sauté, add tomatoes finely chopped or pureed.

5
Sauté till masala leaves oil and add mutton pieces and sauté again for 5 minutes.

6
Cover the mutton and let it stew till the mutton releases and cooks in its own juices.

7
Season as required with salt if less and cook for 1/2 hour.
8
Add vinegar mixed with sugar and jerdaloo and simmer for another 5 minutes.

9
Add saffron to the simmering stew.

10
Lastly, add garam masala powder and serve hot.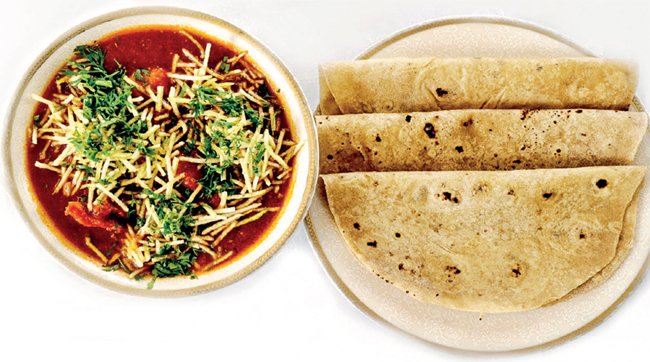 The writer heads the cake and confectionary department at Sir Ratan Tata Institute, Hughes Road

Source: bangaloremirror.indiatimes.com