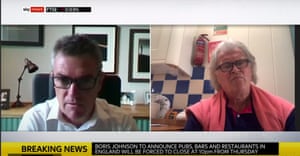 The bosses of two of the UK's biggest pub chains have blasted the government's plan to make them close at 10pm, and to encourage people to work from home again.
Speaking on Sky News, Simon Emeny, CEO of Fullers, says it's "completely unjust" to single out the pub sector, as less than 5% of infections have occurred there.
Emeny argues that the government should encourage 'responsible socialising' in pubs, rather than forcing customers to socialise in the street or in other people's houses.
Sales in the North East of England are down around 50% in the last four days since a 10pm closing time was introduced, Emeny suggests.
That would be "absolutely crippling" to the industry, and an enormous hit to consumer confidence.
Emeny adds that he's more concerned about lost jobs and livelihoods, and his employees' mental health, rather than lost sales.



I think this will be devastating for the industry, and it will be devastating for so many people who will be cut adrift, predominantly people who are under 30, who will lose their jobs as a result of some completely incoherent and inconsistent government strategies to deal with this virus.
Fullers is now rethinking its plans to reopen its remaining closed pubs, and fears that sites in London and other city centres will be worst hit by the move back to home working.
With 900,000 hospitality jobs still furloughed, the government must extend the furlough period for the hospitality industry and provide extra VAT support too, Emeny adds.
JD Wetherspoon's boss Tim Martin is even blunter, calling the 10pm closing time "utterly stupid", as there have been few infections in pubs.
He tells Sky there are currently 3.2 million hospitality workers trying to enforce social distancing rules. The government is now "making those people redundant at 10pm or so in the evening", and turning people out into the streets.
Asked about the "contradictory signs' from the government, following the success of Eat Out to Help Out last month, Martin says:



The whole thing is nuts.

I'm fairly certain the government hasn't got a clue what it's doing. The most important thing in our democracy is for parliament to take control of this matter.
Martin adds:



A bunch of colleagues, many of whom haven't been elected, are imposing rule by degree.
Martin wants the government to heed experts, such as Oxford University professor Carl Heneghan, who argue that the government should introduce 'targeted protection' for those most vulnerable rather than new national restrictions.
Parliament should now take a week to debate lockdowns, argues Martin, who reckons MPs would conclude that lockdowns don't work.
He also warns that extending the furlough scheme would only be a 'sticking plaster', and that tax revenues will suffer if pubs are closed again.



The problem is these jokers are ruining the country.
Martin also savages Boris Johnson's handling of the crisis, saying that "at the moment, he's definitely not up to the job".

Like someone running a business, the prime minister should "listen to experts, decide what should happen, and steer a sensible path, listening at all times."



We need leadership and common sense and good economics….

The economy is being ruined fast


Source: www.theguardian.com